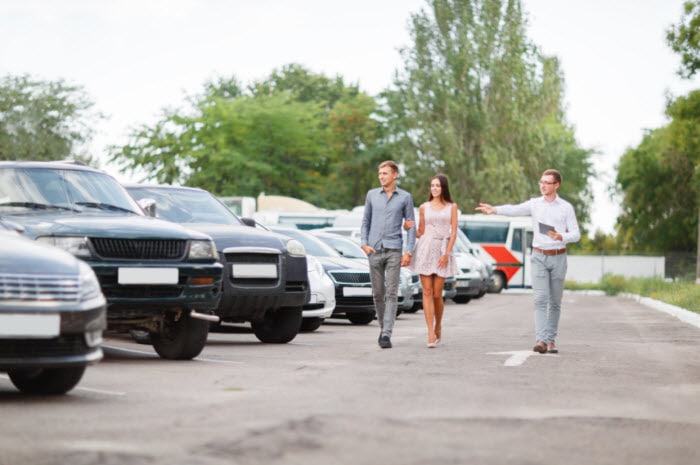 Let's be honest: There's a negative perception about car dealerships, particularly used car dealerships. While buying a used car has many advantages, most drivers dread the shopping process.
Rest assured, you can get a good deal and honest service, but it's still best to prepare yourself beforehand, especially if you have any fears about shopping at a used car dealership. A vehicle purchase, whether you're buying new or pre-owned, is one of the biggest investments you'll make, so follow these guidelines to ensure you're ready to go.
Buying a Used Car From a Dealership: Tips & Advice
Know what you want to pay over the full duration of your finance term, and not just what you want to pay monthly.


Know what cars you want to view before visiting the dealership. Do your research and come up with a list of your top picks. This immediately puts you in control and will help you avoid an aggressive car salesperson who may pitch you vehicles that don't meet your needs or budget.


Bring a market value estimate from a website like Edmunds.com or AutoTrader. Both offer tools that provide estimations based on market data, which can help you negotiate a fair deal.


Bring an estimate for your trade-in vehicle if applicable.


Ask if there are any forced add-ons and get pricing upfront. There are several types of "add-ons" that used car dealerships and used car lots may have already installed on a vehicle—from nitrogen-filled tires to window tinting, various packages and more. Some may be thousands more in cost, some may be under $100. But often they're labeled as "non-negotiable," so it's better to find out about them sooner than later.


Ask for free or discounted services. When you checked the oil, did it look dark or low? Ask for a free oil change. Did you notice stains on the upholstery? Request a free detail. Are the tires worn out? Ask that they be replaced for free or at a discounted rate.


Look up dealership reviews. There are bound to be many negative reviews, so you'll have to use your judgement to figure out which you think are fake or unreasonable. Most importantly, pay attention to the reviews that appear to be real and decide whether you want to do business with the company based on what you find.


Always view the vehicle history report. One of the benefits of buying from used car dealerships is that Carfax Vehicle History reports are generally provided for free, while some independent used car lots expect shoppers to pay for this information on their own.


Use the test drive to check for mechanical issues. This is especially important when buying a used vehicle. Look under the hood, listen to the brakes, check to see if any warning indicators are on, try out the radio and other electronics, use the AC, and turn on the headlights and directional signals, among other aspects. In addition, make sure to check tire tread as well as the full exterior for imperfections. It's also a good idea to have a used car inspection performed before purchasing a pre-owned vehicle.


Don't bother lowballing. Just like you want to be treated with respect and fairness, so do car salesmen and women. Asking for a significantly low price that's nowhere close to market value may make the situation tense and uncomfortable.
If you're shopping for used cars for sale in the Phoenix metro area, browse our car listings to find a variety of options. From used SUVs and trucks to used cars under $10,000, AZCarCentral has a broad selection of vehicles from reputable used car dealerships across the Valley.